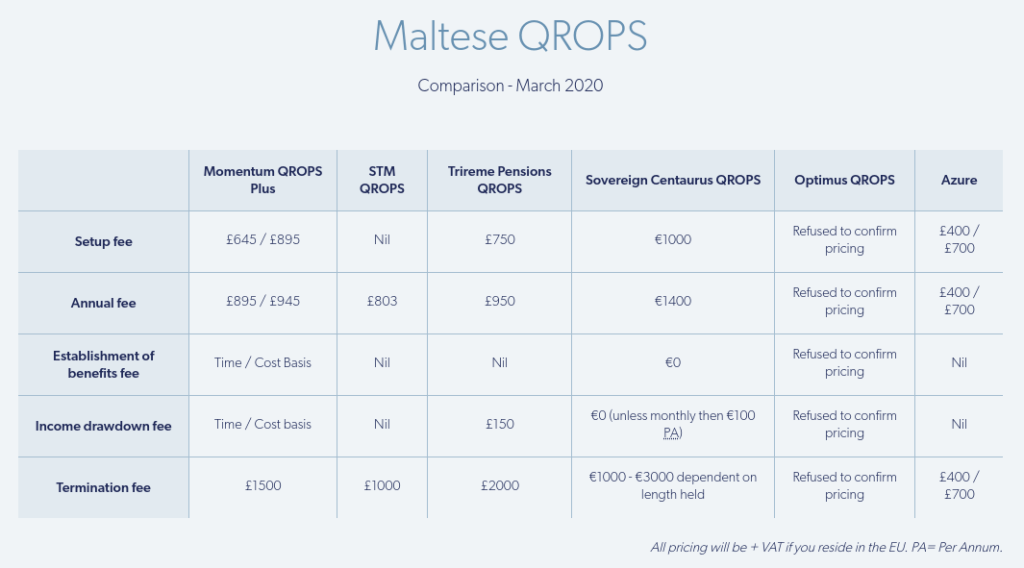 Which is the best QROPS Provider in 2022?
A QROPS (Qualifying-Recognized Overseas Pension Scheme) is an international pension scheme, which allows you to transfer your UK pension funds away from the jurisdiction of the UK and HMRC. It has been used by Expats all over the world, and naturally, there are now many different providers and options available to non-UK residents. So what factors should be considered when evaluating a QROPS?

In this article, we'll explore the different options available, and review the things you should look out for when choosing your QROPS.

British Expats and Transferring to a QROPS
The main reason British Expats have transferred into a QROPS in the past is to completely detach their pension pots from the UK and for the tax benefits associated – the main being the fact that there is no lifetime allowance charge applicable to a QROPS. For example, let's consider an Expat in France who has a pension pot in the UK valued at £1.4 million.

Due to the Lifetime Allowance Charge in the UK, the excess funds over £1,073,100 will incur an additional tax charge. This individual could have avoided this completely, if they had transferred the funds to a QROPS before the pension got to this size.

Another reason UK Expats might use a QROPS is to detach themselves completely from HMRC. Typically, if you draw-down from a UK pension as a non-resident, there would be tax deducted at source and you'd have to claim this back from HMRC (providing there's a dual taxation agreement), which as you can imagine can be incredibly time consuming, often taking several months to receive the funds back.

Finally, an individual might wish to use a QROPS is for a greater investment selection and loosening of regulation and restrictions. All funds within a UK pension typically have to be regulated, and most would have to be classed as UK standard asset (ability to sell down within 30 days).

The Financial Conduct Authority (FCA) is one of the most robust regulatory bodies in the world – whilst this obviously has numerous benefits in terms of investor protection, it can limit investments into more niche and exotic areas. A QROPS would take your funds out of the jurisdiction of the FCA and the Financial Services Compensation Scheme (FSCS), allowing you to invest in almost any area and asset class.
Things to Consider When Choosing your QROPS
Cost
Something that investors always should be aware of, and typically is their priority, is cost. In the past QROPS haven't been the most transparent pensions available, nor the most competitively priced. Depending on the scheme, you could be looking at thousands of pounds per annum just for the trustee fee alone.

This would be on top of potential quarterly administrative charges, along with any draw-down costs associated with the plan. The main thing and the priority for any investor is to know exactly what they are paying, and what it is for.

Given how QROPS have developed over the years, costs have come down and the market has become far more competitive than previously, with some trustees having annual fees below a thousand pounds.
Servicing Standards
There's nothing worse than having issues and delays when trying to draw-down upon your own money. Pensions have never been the most streamlined (in the UK or abroad), however QROPS can run into issues if your provider doesn't have the size or capability to deal with instructions. Often you'll be required to provide numerous forms and documents just to make a simple withdrawal. If the correct processes aren't in place, it can take weeks to finally get the funds into your bank account.

Make sure that your QROPS provider has experience and the personnel in place to manage your pension, and always ask for their typical turnaround time for finalizing any actions.
Reputation and Size
Whilst reputation of a company doesn't guarantee future standards, it does indicate what level of service you're likely to receive. Unless you have very niche and specific investment requirements that needs a specialist QROPS provider, it's likely best to choose a company that has been in the business of managing pensions for a very long time, and one that has sizable capital behind it to ensure no complications or administrative issues.

Over the years, we've seen plenty of companies enter the market only to fold a few years later, due to a lack of market knowledge or understanding of the costs. This scenario wouldn't result in you losing your pension, but you would have to find a new trustee to look after your pension, which can take a very long time and can also be a costly exercise.
Best QROPS Provider 2022 and Cost Comparison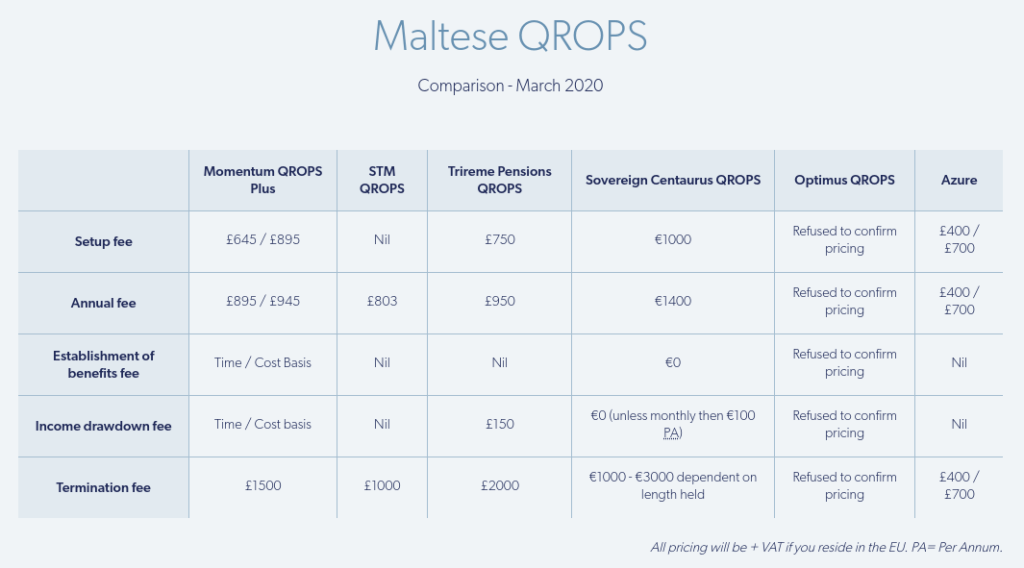 Video FAQ
For more information on this service/blog, please watch our FAQ video below. You can also find more video guides on expat financial planning on our
YouTube
channel.
7 Key Questions on Best QROPS Provider 2022 – Things to consider
Subscribe to our YouTube Channel